Car owned by
member Tom Hayward
Advertisement
News
2014 - Engineered to race, bulit for the road
January 14, 2013
Engineered to race, built for the road
New aluminum frame structure is 57-percent stiffer and 99 pounds (45 kg) lighter than the current steel frame

Innovative use of composite materials, including carbon fiber the hood and roof panels, lightweight Sheet Molded Compound for the fenders, doors and rear quarter panels, and carbon-nano composite for the underbody panels help reduce the weight of the body by a 37 pounds (17 kg)

New LT1 V-8 uses advanced technologies to produce more power with less fuel and is paired with an industry-exclusive seven-speed manual transmission with Active Rev Matching for more precise up and down shifts.
The new Corvette Stingray takes advantage of lightweight materials, advanced manufacturing techniques and technology transfer from the Corvette Racing program to produce an ideal 50/50 weight balance and to deliver a world-class power-to-weight ratio.
"Chevrolet has a long history of using racing to improve production cars, and nowhere is that more evident than with Corvette," said Jeuchter. "We continually apply technologies and strategies developed for Corvette Racing directly to the production car. That influence can be seen in virtually every aspect of the new Corvette Stingray, from the aerodynamic design to the use of carbon fiber, to the cooling techniques and even in the brake system.
The technologically advanced foundation is an all-new aluminum frame structure that is 57 percent stiffer and 99 pounds (45 kg) lighter. The greater torsional rigidity reduces unwanted noise and improves ride and handling.
Compared to the previous generation, which used continuous hydroformed main frame rails with a constant 2mm wall thickness, the new Corvette's frame features main rails composed of five customized aluminum segments, including aluminum extrusions at each end, a center main rail section and hollow-cast nodes at the suspension interface points. Each segment is tuned – varying in thickness from 2mm to 11mm – tailoring the gauge, shape and strength properties to optimize the requirements for each frame section with minimal weight.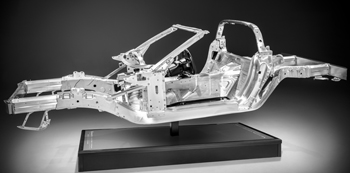 The frame is assembled at an all-new welding shop at the Bowling Green Assembly Plant using a unique laser welding process in which a computer-controlled beam of high energy joins the components with exceptional precision and tolerances of about 0.001-inch.
Supporting the frame's greater strength and lower weight are complementing chassis elements, including hollow-cast aluminum front and rear cradles that are approximately 25-percent lighter and 20-percent stiffer than the solid cradles used on the previous structure.
The innovative use of materials includes a standard carbon fiber hood and roof panel, as well as underbody panels created with carbon-nano composite technology, an advanced blend of traditional composite material and carbon fiber, which allows lighter underbody panels without a loss of strength or stiffness. Fenders, doors, rear quarter panels and the rear hatch panel are made with lighter-density Sheet Molded Compound than the previous generation. Combined, these materials save approximately 37 pounds (17 kg) versus the previous body structure.
The lightweight elements of the Stingray contribute to the ideal 50/50 weight balance. Combined with its estimated 450 horsepower (335 kW), the new Corvette delivers a better power-to-weight ratio than the Porsche 911 Carrera or Audi R8.
Those 450 horses are generated by an all-new LT1 6.2L Small Block V-8 engine, which produces an estimated 450 lb.-ft. of torque (610 Nm). More importantly, it generates 50 lb.-ft. more low-end torque than the previous 6.2L engine, matching the 7.0L LS7 engine from the 2013 Corvette Z06 from 1,000 to 4,000 rpm.
The engine's performance comes from combining advanced technologies like direct injection, Active Fuel Management and continuously variable valve timing with an advanced combustion system. More than 10 million hours of computational analysis went into the new Small Block's design, including more than 6 million hours alone on the combustion system.
The LT1 is backed by a choice of active exhaust systems that are less restrictive than the previous generation, due in part to an increase in diameter from 2.5 inches to 2.75 inches. The standard system offers a 13-percent improvement in airflow and features a pair of butterfly valves that contribute to greater refinement at cruising speeds when the engine is operating in fuel-saving V-4 mode.
An available dual-mode active exhaust system offers a 27-percent improvement in airflow. It features two additional valves that open to a lower-restriction path through the mufflers. When open, these valves increase engine performance and produce a more powerful exhaust note.
The LT1 is mated to either a six-speed paddle-shift automatic transmission or an industry-exclusive TREMEC TR6070 seven-speed manual with Active Rev Matching. The Corvette retains its distinctive rear transaxle layout for optimal weight balance.
The seven-speed manual incorporates rev-matching technology for upshifts and downshifts. This driver-selectable feature can be easily engaged or disengaged via paddles on the steering wheel. The seven-speed is used with a new dual-mass flywheel and dual-disc clutch, which deliver greater shift quality and feel through lower inertia. The transmission with the Z51 Performance Package includes specific close-ratio gearing for more aggressive driving.
A six-speed Hydra-Matic 6L80 paddle-shift automatic is also available. It is optimized for use with Active Fuel Management and features a lower-inertia torque converter for improved shift quality and shift speeds. In addition, shift feel and shift points can be adjusted through the Driver Mode Selector.