Car owned by
member Tom Hayward
Advertisement
News
2014 - Driver-oriented technologies
January 14, 2013
Driver-oriented technologies


Driver Mode Selector optimizes 12 vehicle attributes

Configurable screens and head-up display can be tailored to the driver's preference

Central touch screen uses gesture-recognition technology.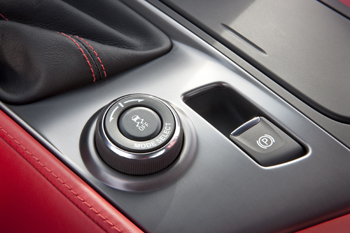 At the core of the Corvette Stingray's driver-focused technologies is the cockpit-mounted Driver Mode Selector, which allows drivers to optimize the car for their driving preference and road conditions via five settings: Weather, Eco, Tour, Sport and Track.

"The all-new Corvette Stingray is really three cars in one: It provides the comfort and functionality of a long-distance GT car, the connectedness and infotainment of a daily driver and the acceleration, grip and braking of a capable track car. With the Driver Mode Selector, we wanted to give the driver an easy way to tailor virtually every aspect of the car to fit their driving environment. The result is a more rewarding, more confident experience, whether you're commuting in a downpour or charging through the corkscrew at Laguna Seca."
The Driver Mode Selector is easy to use via a rotary knob near the shifter. The Tour mode is the default setting for everyday driving; Weather mode is designed primarily for added confidence while driving in rain and snow; Eco mode is for achieving optimal fuel economy; Sport mode is for spirited road driving and Track mode is for track use.
Twelve performance parameters are adjusted with the selection of each mode, including:
Gauge cluster configuration: The Tour, Eco and Weather modes feature displays for trip data, audio and navigation; Sport mode shows classic, easy-to-read sports car gauges; and Track mode's configuration shows a gauge design based on the Corvette Racing C6.R race car display with lap timer

ETC (Electronic Throttle Control): Adjusts the throttle input curve for the selected mode for improved responsiveness
Paddle-shift automatic transmission: Adjusts shift comfort and shift points

Active Fuel Management: In normal mode, the LT12 Engine uses V-8 power during acceleration and V-4 power when coasting; in Eco mode the engine remains in V-4 mode to improve fuel economy until aggressive accelerations is needed
Exhaust (Active exhaust system): The system adjusts the timing of the electronically controlled exhaust valves to enhance audible feedback from the V-8 depending on the drive mode

Electronic limited-slip differential (Z51): Adjusts the rate at which the limited slip engages, to balance between steering response and stability in different driving conditions; more aggressive performance in Sport and Track modes

Steering: Assist effort is adjusted in the modes to provide the driver with the correct steering feel for the driving condition

Magnetic Ride Control: Adjusts shock damping based on road conditions, from optimized comfort to performance driving

Launch contol: Available in Sport and Track modes for manual and automatic transmissions, providing maximum off-the-line acceleration

Active handling (StabiliTrak stability control): A "competitive" setting is available in Sport and Track modes and is more suited for on-track conditions. It can also be disabled, giving the driver complete control

Traction control: Weather mode tailors traction control and engine torque for driving in inclement conditions

Performance Traction Mamagement: Available in the Sport and Track modes and offers five settings of torque reduction and brake intervention for track driving

Three configurable displays, including a pair of eight-inch screens and color head-up display, deliver personalized information and convey the different performance parameters of each drive mode.
The two eight-inch screens offer excellent visibility in direct sunlight, with 650 cd/m2 of brightness for the one integrated into the instrument cluster and 1,000 cd/m2 of brightness for the one in the center stack, making it among the brightest screens in the industry. The screen in the center stack also features touch-screen control with gesture recognition and can be lowered to reveal a hidden storage that includes a USB input for device charging or uploads.
The Corvette delivers an advanced infotainment system, featuring Chevrolet MyLink and high-definition radio, as well as enhanced OnStar with 3D navigation maps. An additional USB port in the center console, a stand-alone audio input jack and an SD card slot provide seamless connectivity.
An available premium 10-speaker audio system includes a bass box and two subwoofers – and speakers with rare-earth magnets that deliver greater sound quality with reduced weight and size.