Car owned by
member Tom Hayward
Advertisement
News
2014 - Every line counts
January 14, 2013
Every line counts on Corvette Stingray's functionally elegant exterior

Aerodynamic design integrates strategies from Corvette racing

Signature lighting includes distinctive frosted light-emitting diode daytime driving lights, high-intensity discharge headlamps and indirect-LED taillamps

Carbon fiber hood and removable roof panel enhance front/rear weight balance
Corvette Stingray's provocative exterior styling is as functional as it is elegant, said Ken Parkinson, executive director of global design.
"Developing a new Corvette, while every designer's dream, is not an easy task," Parkinson said. "The goal was a bold design statement that embraced the advanced technology of the car, while enhancing its overall performance in everything from the wind tunnel to the track. The result is a new Corvette Stingray – a fantastic car that breaks new ground yet remains true to the fundamental elements that make a Corvette a Corvette."
While no single detail is repeated from previous generations, the new Corvette Stingray include the distinctive profile defined by a long dash-to-axle ratio and the greenhouse evoking the canopy of a fighter jet with dual-element taillamps. To this foundation, designers built a form vocabulary from two very different sources: aerospace and nature.
"For the new Corvette to be called a Stingray, it had to deliver an incredible, purposeful visual impact – just as the original did in 1963," said Tom Peters, exterior design director. "That visual impact is evident in fighter jets and the Stingray animal itself. Their beauty comes from their purpose, designed to cut through air or water as quickly and efficiently as possible. As with aircraft and living forms, every transition on every surface of the Corvette Stingray serves a purpose executed with beauty and proportion."
Lighting is a signature element of the Corvette Stingray's design and reinforces its high-tech aesthetic. At the front, indirect white LED lamps form a distinctive daytime styling cue. They are set in a black-chrome lamp housing with standard HID projector headlamps. The turn signals feature edge-lit amber LED lighting.
All-new, dual-element taillamps represent the greatest departure from tradition and are among the car's most dramatic elements. The three-dimensional, sculpted lenses house innovative indirect LED lighting. The state-of-the-art lighting uses hidden LED lamps that cast their light up from the bottom of the housing into a reverse reflector, creating an even glow. LED lamps are also used for the white backup lamps. The taillamps integrate functional aircraft-style air outlets for the available differential and transmission coolers.
"From the front or rear, the signature lighting brings the new Corvette to life,"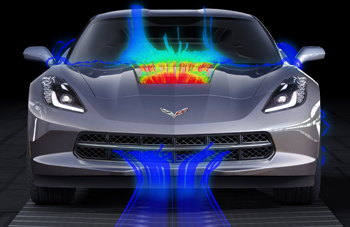 said Peters. "It looks beautiful, sinister and more than a little intimidating. It gives the Corvette a nighttime appearance unlike anything else on the street."
When it comes to aerodynamics, the new Stingray is in a league of its own. Advanced computer-aided modeling programs were employed to predict and track airflow over, under and through the new Corvette's body. Engineers and designers also relied on data gleaned from the Corvette Racing program – the most successful program ever in the American Le Mans Series and the 2012 GT class champion – to help balance front and rear grip for high-speed stability.

Many hours were spent in the wind tunnel hand-sculpting surfaces for aesthetics and performance. Functional exterior elements include:

All models have a new grille/radiator arrangement and hood vents. Venting air our of the hood reduces total front-en lift for improved steering response at high speeds

The front fender side coves also help vent underhood air pressure to reduce aerodynamic drag

Models with the automatic transmission or Z51 Performance Package feature a functional vent on driver's left side directing air over a heat exchanger for the transmission fluid and a similar arrangement on the passenger side that directs air over a heat exchanger for the electronic limited slip differential


Airflow through the differential and transmission heat exchangers exit through the aircraft-inspired taillamp vents and lower-rear fascia air outlets

The Z51 Performance Package also includes brake-cooling ducts, a unique rear spoiler and additional air deflectors for enhanced track capability

"Every square inch of the 2014 Corvette's exterior is designed to enhance high-performance driving," said Kirk Bennion, exterior design manager. "The team delivered a great balance of low drag for efficiency and performance elements for improved stability and track capability – all in a sculpted design that excites in all the ways that a Corvette has for six decades."