Car owned by
member Tom Hayward
Advertisement
News
Corvette Marks 60 Years of Performance with 427 Corvette
January 13, 2012
Chevrolet unveiled the 2013 Corvette 427 Convertible Collector Edition - the fastest, most capable convertible in Corvette's history - as well as a 60th Anniversary Package that will be available on all 2013 Corvette models.
"The 2013 model year will be historic for Corvette, marking its 60th Anniversary and the final year for the current 'C6' generation," said Chris Perry, vice president, Global Marketing and Strategy for Chevrolet. "We couldn't think of a more fitting way to celebrate these milestones than bringing back on of the most-coveted combinations in the brand's history - the Corvette convertible and a 427 cubic-inch engine."
The 60th Anniversary Package and 427 Convertible will make their debut at the Barrett Jackson collector car auction in Scottsdale, AZ on Jan 21, and will arrive at US Chevrolet dealers early this summer.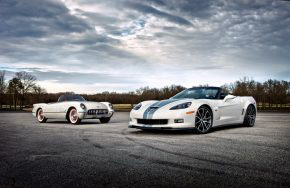 The first Corvette 427 Convertible offered tot he public will go to the highest bidder at the Barrett-Jackson Scottsdale collector car auction on Saturday, Jan. 21. Proceeds from the sale will benefit the Drive to End Hunger food relief program.
Chevrolet and Hendrick Motorsports are teaming up for the auction, including Hendrick team driver and four-time NASCAR Spring Cup Champion Jeff Gordon. Team owner Rick Hendrick helped launch the Drive to End Hunger program with AARP and the AARP Foundation.
The Drive to End Hunger is part of a multi-year sponsorship for Gordon's No. 24 Chevrolet. It calls on racing fans, corporations and charitable organizations to raise money, build awareness and engage Americans who face the threat of hunger.